SHE was mired in some controversy at this year's Miss Singapore Universe (MSU).
But Rachel Kum managed to skirt the heat and become the latest winner of the local beauty pageant held at Shangri-La Hotel's Island Ballroom last night.
She was recently accused by certain sources of allegedly skipping the preliminary audition rounds and compulsory activities. The catty talk was that she was brought in midway to win the crown.
Maybe the resentment arose because the 24-year-old manager in the medical industry and The New Paper New Face 2007 finalist had the whole package.

Besides enviable good looks, Rachel also nabbed two subsidiary awards - The Most Body Beautiful and Miss Personality.
So even though she bombed during the Q&A segment compared to the other girls in the Top 5, it didn't topple her in the judges' eyes.
Stumped
When asked by the event's emcee, radio DJ Glenn Ong, how the recent recession has affected her and if she's overcome it, Rachel appeared stumped.
The 1.7m beauty's shaky and somewhat lacklustre reply?
'The financial crisis has affected us one way or another, making people realise... the value of being prepared.
'For the most part, people in Singapore are lucky, but we should still be cautious.
'I've been penny wise and spending less, and I've learnt to limit my spending to needs rather than wants.'
Even Rachel herself was surprised that she won.
She told The New Paper backstage: 'I was really a nervous wreck and went blank on stage. You'd think I'd be able to answer the question as a former associate analyst from the finance industry, but when it was asked like that... it became tricky.
'But I was so relieved and I almost teared because I thought I had blown my chances.'
Rachel confessed she was 'very sad and pessimistic backstage' after the segment and thought the title would go to eventual first runner-up April Wang.
April, a 19-year-old undergrad, delivered a heartfelt speech about assisting the elderly when asked which charitable organisation she would like to help.
So did Rachel feel her victory was tainted by the gossip, she said: 'I was already singled out (by the other girls) after a month. Even if I win, I lose, because of all the bad publicity.
'Anyway I think it's all trivial... at least I'm expecting the worst now and I'm more wary about who I meet.'
She said The New Paper New Face contest helped boost her self-confidence and her catwalk skills.
'Getting into the Top 20 wasn't easy, so I felt very privileged.'
Said judge and president of MSU organiser Derrol Stepenny Promotions Errol Pang: 'We all collectively thought she stood out and makes a good queen, and the overall result wasn't based on just one question.
'Yes, she hesitated, but she caught on at the last part.'
He also pooh-poohed suggestions that the panel of judges - comprising sponsors and a guest fashion designer - had pre-selected her prior to the finals.
Mr Pang insisted Rachel was also the popular choice, and claimed he heard even audience members from the 300-strong crowd seated around him placing bets on Rachel to win.
'Every year, people like to poke fire at the hot favourite,' he said.
In fact, after Rachel's stumble, fellow contestant Cheryl Wee, 22, was thought to be leading the pack because of her superior crowd-pleasing performance during the Q&A.
When asked whether she would date someone who's much younger or older, the eventual second runner-up replied cheekily: 'Age is only a number. What's most important to me is his size - the bigger the better.'
She paused for dramatic effect before continuing: 'And what I'm referring to is his heart'.
The National University of Singapore undergrad is the daughter of Jean Yip and Mervin Wee of local hair and beauty chain Jean Yip Group.
They bought five tables for relatives and friends at between $200 and $500 per seat.
Cheryl received the loudest cheers from her supporters, who held up huge placards with her photo every time she strutted on stage - but even that couldn't influence the judges.
Rachel won $5,000 cash, a trophy and products and services from the sponsors.
She will represent Singapore at Miss Universe 2009, which will be held at the Atlantis Paradise Island in Nassau, Bahamas on 23 Aug.
--------------------------------------------------------------------------------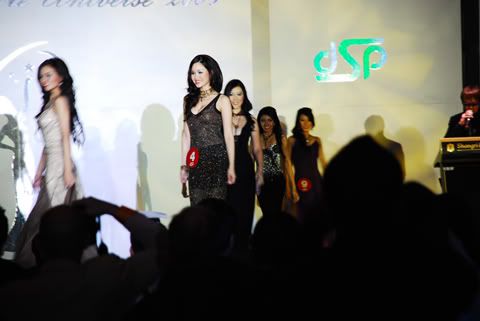 The winners
Miss Singapore Universe: Rachel Kum
1st runner-up: April Wang
2nd runner-up: Cheryl Wee
SUBSIDIARY AWARDS
Miss Nice & Natural: Cheryl Wee
Miss Fitness: April Wang
The Most Body Beautiful Award: Rachel Kum
Miss Snap-On Smile: Siti Syabaniyah
Miss Singapore Shawl Universe 2009: April Wang
Miss Personality: Rachel Kum
Obsession Hair Award: Christine Ng