Oct 3, 2011
MSI graphics card – the number one choice for extreme overclockers and setting world records
Industry-leading innovations such as Triple Overvoltage and Triple Temp Monitor
(Taipei-Taiwan) A survey of world-leading overclocking website HWBOT shows that MSI graphic cards consistently ranked in the top 10. This is no accident; by combining extraordinary overclocking skills and utilities with superb operability, global OCers become kings of overclocking with MSI graphic cards! World-renowned mainboard and graphics card manufacturer MSI collaborated with Rivatuner to develop the award-winning graphics utility MSI Afterburner, receiving unanimous acclaim from OCers for its superb operational interface. The Triple Overvoltage allows users to adjust the GPU, memory and PLL voltage independently to break through the extremes of graphic card performance. Also, the MSI-exclusive Triple Temp Monitor technology allows users to monitor the temperature of GPU, memory and MOSFET in real time, maintaining optimal performance of graphics cards at all times. Internationally renowned OCer NickShih said, "A tiny performance difference in extreme OC is the key to break world records. With MSI graphic cards supporting Triple Overvoltage and Triple Temp Monitor, I can overcome all odds and beat world records every time." The approval of OCers and proof of world records show that MSI graphic cards with Triple Overvoltage and Triple Temp Monitor are the keys to establishing new world record.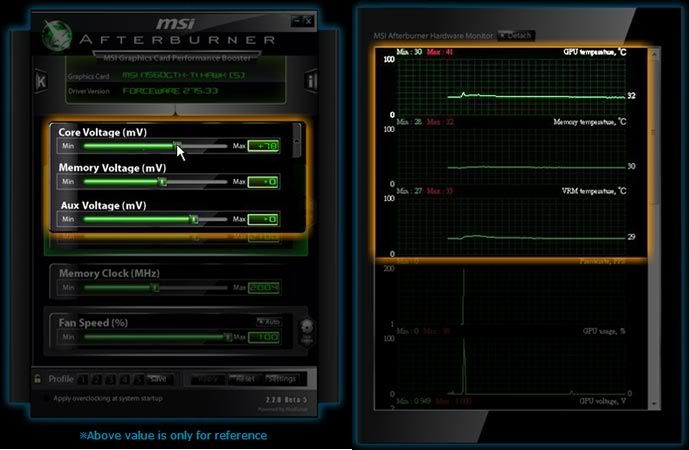 Friendly interface of Triple Overvoltage and Triple Temp Monitor by MSI Afterburner
Triple Overvoltage: the key to create infinite overclocking potential
With the MSI-exclusive Afterburner overclocking utility, OCers not only can adjust GPU and memory clock but can further fine tune GPU, memory and PLL/VDDCI voltage to completely unleash the performance of graphic cards under extreme OC condition. The OCer "Matose – Lab501" create world records with MSI R6970 Lightning, and he thinks the Triple Overvoltage is the key to break world records,
"A little change in clock and voltage can make the difference between winning and losing. The Triple Overvoltage in the MSI Afterburner helped me to fine-tune the key voltages on-the-fly to stabilize overclocking and push graphic card performance to the limit. Now you don't need to make physical mods to the card, you can do it all through software which is a step forward for overclocking."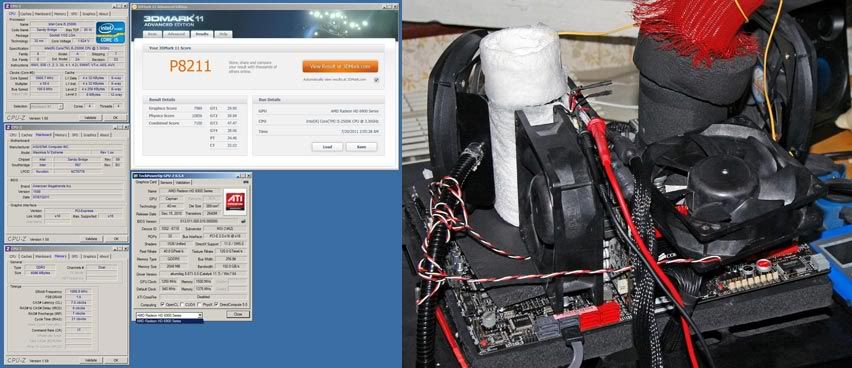 With MSI R6970 Lightning featuring Triple Overvoltage, "Matose – Lab501" broke through the world record of 3DMark 11 performance mode

Triple Temp Monitor: the key to maximizing performance in real time
In order to accurately tune the clock speed and voltage of graphic cards, we need more detailed hardware information. The Triple Temp Monitor from MSI Afterburner can detect GPU, memory and MOSFET temperature changes in real time to prevent overclocking failure from overheat. OCer " cyclone –XtremeLabs.org" successfully set world records with the N580GTX Lightning, believing that in addition to the excellent hardware design and outstanding tuning functions of MSI graphic cards, the Triple Temp Monitor equipped in its Afterburner overclocking utility allows him to capture the temperature changes of the graphic card at all times,
"Temperature changes of the graphic card are the keys to success in overclocking competition. When one misses this point, he will need to face failure and start everything over again. The Triple Temp Monitor equipped in MSI Afterburner provides real-time information of the temperature changes of GPU, memory and MOSFET. This way, I can capture everything in real time to accurately tune the graphic card and break through its extreme."

"cyclone –XtremeLabs.org" to win the first place in Unigine Heaven–Xtreme Preset (DX11) by MSI N580GTX Lightning supporting Triple Temp Monitor.
If you are interested in the Triple Overvoltage and Triple Temp Monitor function, please visit
MSI Afterburner Triple Overvoltage
For more details about MSI Afterburner, please visit
MSI Afterburner
For more information of the world records, please refer to
Hardware news, Overclocking Competitions, Reviews