- World's 1st 5GHz commercially available CPU
- Eight "Piledriver" cores, 4.7 GHz load, 5 GHz Max Turbo
- ★ limited edition ★
News Flash
AMD Unleashes First-Ever 5 GHz Processor
Quote:
Originally Posted by AMD
AMD Unleashes First-Ever 5 GHz Processor
Enthusiasts get unbelievable PC performance with new AMD FX-9000 Series Processor


Los Angeles— E3 —6/11/2013

AMD (NYSE: AMD) today unveiled its most powerful member of the legendary AMD FX family of CPUs, the world's first commercially available 5 GHz CPU processor, the AMD FX-9590. These 8-core CPUs deliver new levels of gaming and multimedia performance for desktop enthusiasts. AMD FX-9000 Series CPUs will be available initially in PCs through system integrators...
As was stated above, initially the FX-9590 was targeted only at system integrators (overseeing the rig cooling) but there are some indications that AMD may have recently changed it to retail as well...
So what is this FX Centurion, really - is it superb binning, oneupmanship, PR stunt or pure money grabbing? Well for whatever it may be, the one thing which is certain is that it sure got lots of PC people talking about AMD CPUs all over again.
Google hits...
2 millions hits and counting...
Fan wars!
AMD FX-9590 discussion and flaming...
AM3+ socket compatibility
Again the faithful evergreen socket, from nearly forever in PC terms.
FX-9590 Factory Sample
Mine came alone without any retail packaging or cooler. After some cleaning and straightening out, it is alive and ready for action!
Stock VIDs checked - idle 1.4GHz@0.875V and Turbo 5GHz@1.513V
Calling All Cores
Without any further overclocking of the core speed, the FX-9590 performance can be maxxed out with almost certainty simply by running all cores at the official rated Turbo 5GHz. Extreme benchers would probably have a field day trying their luck at going over 8 GHz on this chip since AMD has done the hard work of binning all cores good at 5GHz on water cooling.
BIOS settings - Multiplier 25x, AMD Turbo Disabled (forcing all cores to run 5GHz), Vcore stock 75% LLC
Cooling All Cores
AMD recommends the minimum of water cooling for this monster - Antec Kuhler 920 or better.
Test Setup
Ambient non-aircon air
★ AMD FX-9590@5GHz | Asrock 990FX Extreme9 | 8GB RipZ 1866@XMP1| NiCu HK 3.0-GTX360 | HIS HD7950 IceQ X²@stock |Enermax Platimax 1200W ★
HWBot Prime
Where AMD FX simply rules!
Cinebench 11.5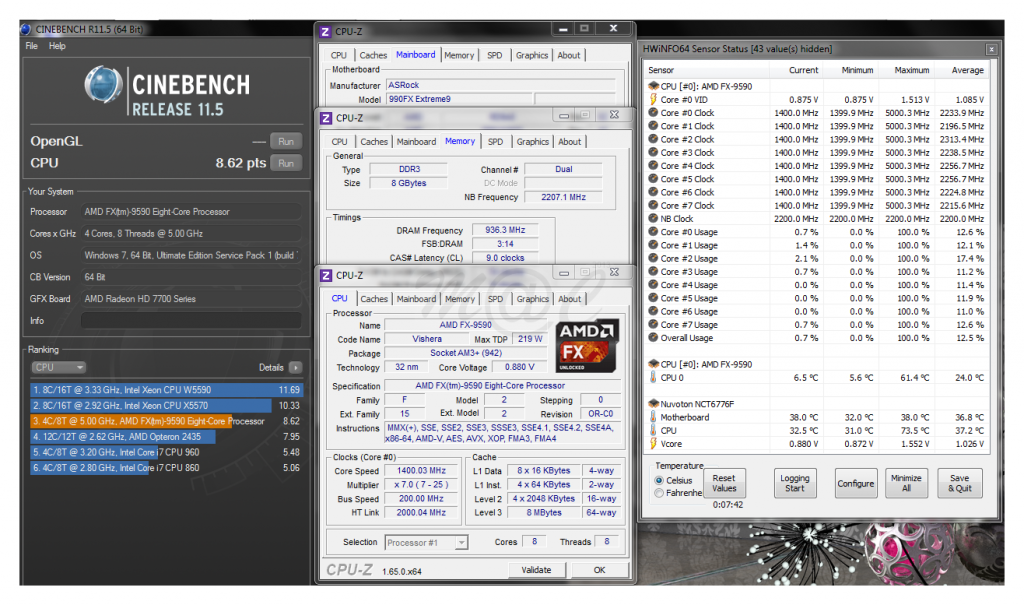 WinRAR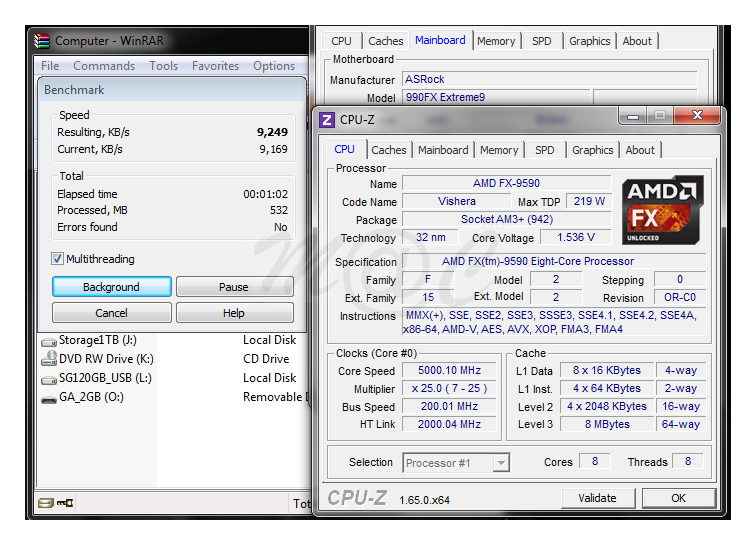 7Zip
Fritz Chess 12 Benchmark
3DMark Vantage
3DMark11
3DMark 2013
x264 FHD Benchmark
xvid4PSP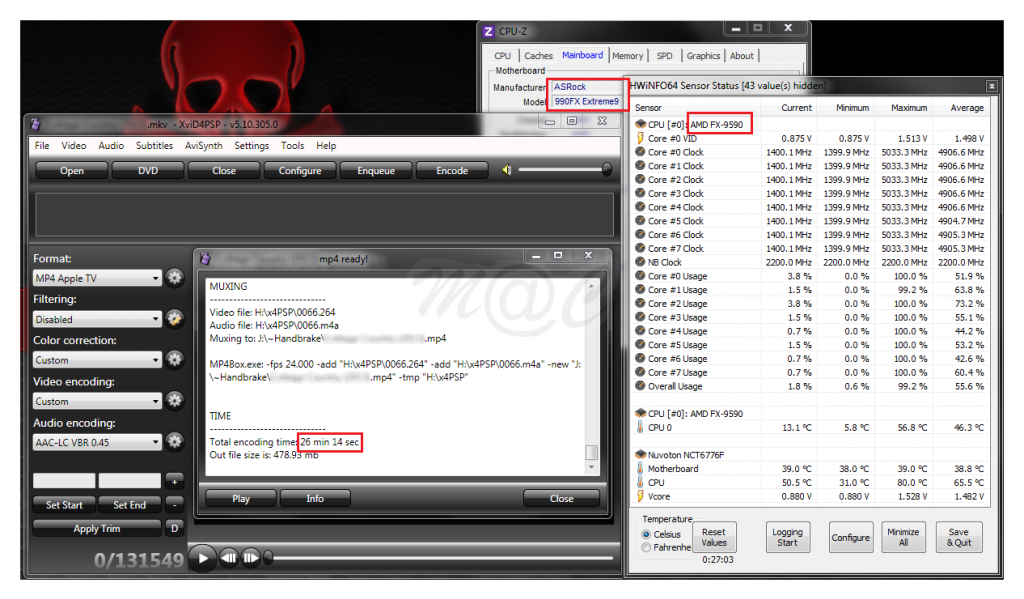 Ripbot264
AIDA64 Benches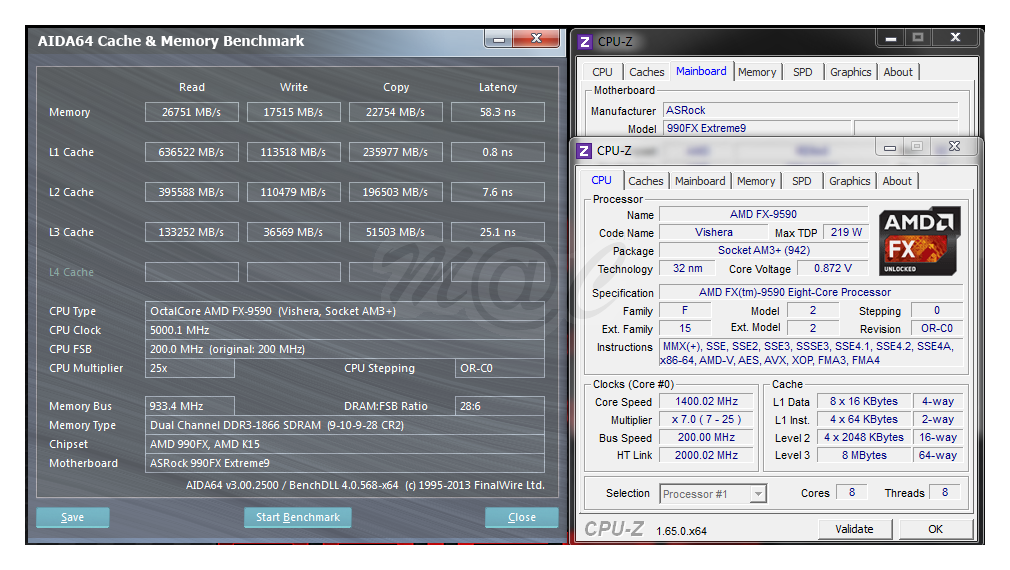 AIDA64 Stress Test
Just a short 5 min. run to check load temps on this latest recommended stress test, actually seems less stressful than x264 transcoding
Interim impressions
For now, the FX-9590 does not come across as a revolutionary product other than its claim to 5GHz fame (and its pricing infamy). It feels and runs like an upclocked successor of its older Vishera brethen, the FX-8350.
So is it superb binning, oneupmanship, PR stunt or pure money grabbing? Perhaps a bit of everything except I really can't see AMD getting too much sales at the present pricing. imo, it seems more like the little David attempting to poke Goliath in the eye, reminiscent of the old victory in the well fought 1 GHz speed race from many moons ago.
More to come...
Update
Power Measurements!
★ Much thanks to AMD, Asrock, Avertek and Ig for contributing parts used in the testing ★